Ricerca preliminare relativa allo stato dell'arte delle tecnologie UI/UX. Creazione di una piattaforma dedicata allo sviluppo di nuovi capi di abbigliamento mettendo in comunicazione diretta lo stilista e l'azienda a partire dalla fase preliminare. 
Preliminary research about the state of the art in theUl/UX field. Creation of a platform that allows a continuous exchange between designers and the company, during the course of the developement from the preliminary.
Progettazione di intefacce, icone e grafica della app per la versione per tablet. 
DE.MA.SS è un progetto di ricerca che, presentato nell'ambito del bando nazionale "Industria 2015, Made in Italy", si è classificato al secondo posto assoluto su oltre 1.500 proposte. 
Sixty, noto gruppo del settore fashion, membro del partenariato, è diventato testimonial e tester dell'applicativo, impegnando a fondo l'intera struttura aziendale. 
DE.MA.S.S., attraverso un partenariato vasto e diversificato, ha come obiettivo lo studio e la realizzazione di un sistema di progettazione condivisa e prototipazione rapida per il comparto moda, attraverso lo sviluppo di sistemi di filiera, per la progettazione integrata su tutto il ciclo produttivo. Migliore integrazione dei processi, quindi, per una maggiore competitività. Primo obiettivo (quick win) del gruppo, la sostituzione di strumenti B2B quali cataloghi e cartelle colori cartacei con applicativi multimediali per Apple Ipad. 
DE.MA.S.S., through a broad and diverse partnership, aims to study and implement a shared design and rapid prototyping system for the fashion industry, through the development of supply chain systems, for integrated strategy across the entire production cycle. Better process integration, therefore, for greater competitiveness. First goal (quick win) of the group, the replacement of B2B tools such as paper catalogues and colour charts with multimedia applications for Apple Ipad.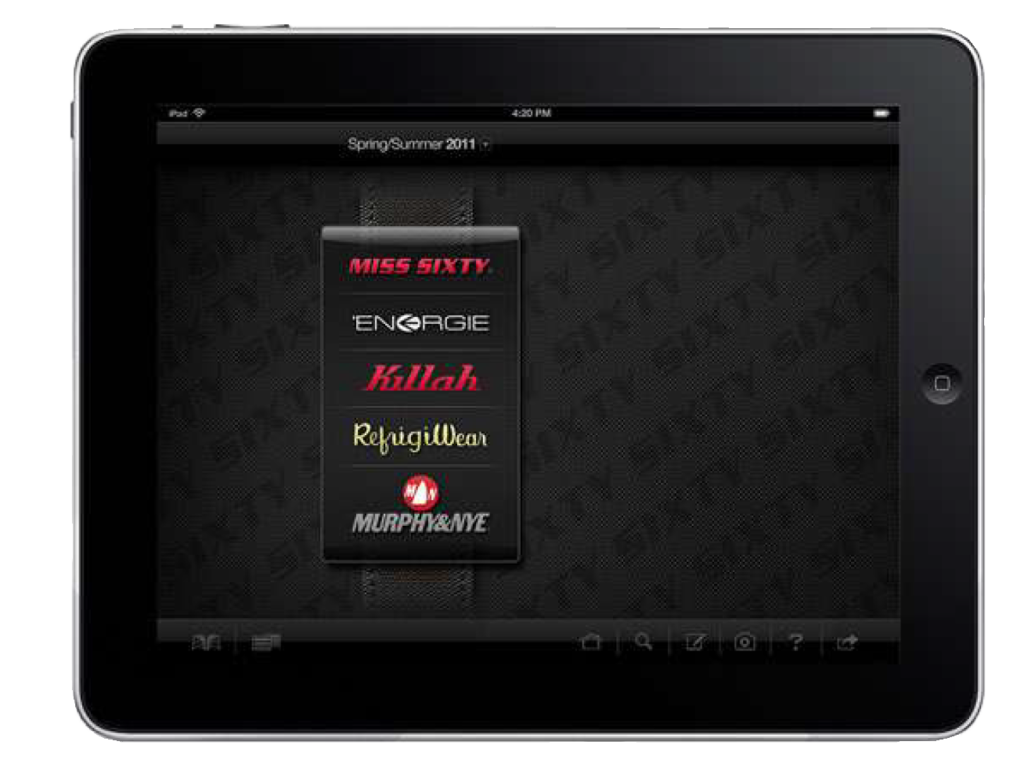 Le interfacce sono state sviluppate attraverso un laborioso processo di affinamento in collaborazione con alcuni partner e con i responsabili dei processi informatici e aziendali di Sixty, coordinati da Fabrizio Boratto, Chief Organization- IT Office.
The interfaces were developed through a laborious refinement process in collaboration with a number of partners and Sixty's IT and business process managers, coordinated by Fabrizio Boratto, Chief Organization- IT Office.
Il libro del progetto/Project book:

Il progetto DE.MA.SS.

Autore/Author: Massililiano Pinucci

Editore/Publisher: ALINEA editrice